Following is some information that might assist with repairing the folding augers on the old Coles 5 in 1 bins.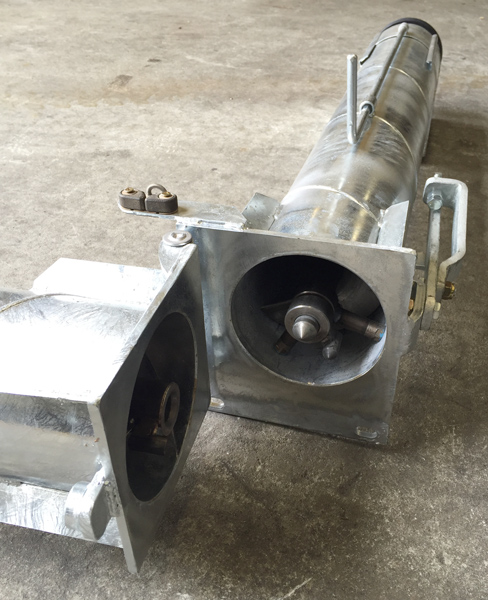 The original machine Coles Engineering used to make auger barrel would not capture the outer diameter of the barrel size accurately. Once it was set up and the tube rolling properly the size that came out was accepted. Consequently there were differences in the outer diameter of the tube from one rolling to the next. The result of this is that when you come to repair their 5 in 1 bin augers you might have difficulty in fitting salvaged flanges to our barrel.
Coles augers were normally either 6.5 inch or 7.5 inch outer diameter tube and in practice the size was plus or minus a quarter of an inch on this. There may have been other sizes but these two were the predominant ones.
Coles initially fitted inflatable bladders and later coated plastic on to the inside of the barrels. The plastic coating was done simply by rotating the barrel over heat and melting plastic beads to coat the inside. If you are looking at replacing an auger and wish to put a plastic lining back in you might use the same method or you can use a 150 Storm water pipe which will fit inside our 6.5 inch barrels. There is no plastic pipe available to fit the 7.5 inch barrel so you would need to select an oversize pipe and slit a section out of it.
Because of this insert within the barrel a smaller diameter flighting was required. Mostly Coles flighting was right hand but you do strike the occasional left hand auger.
Flighting Sizes Used in Seed 'n' Super Augers
A 6″ barrel takes a 134×34
A 6.5″ barrel takes a 150×34
A 6.5″ barrel with plastic liner takes a 134×34
A 7″ barrel takes a 162×34
A 7.5″ barrel takes a 176×34
A 7.5″ barrel with plastic liner takes a 162×34
Do you need your Folding Auger Repaired?
We replicate and re-manufacture these Augers in house with hot dip galvanising being a popular and cheap finishing option.
Alternatively we also sell DIY kits and or singular components if you wish to try your hand at fixing your existing auger. Click here for more information on kits available.